v1.1 of our Android app has gone live and your Android devices should be updating soon with the new version!   It takes a while for updates to happen on the Google Play store but the update should be available in a couple of hours max.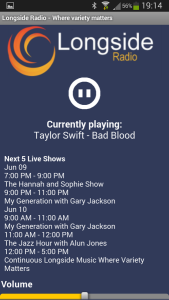 What's new?  Well it now starts playing the station as soon as you fire up the app now (but there is a checkbox so you can turn this off if it annoys you.  It now displays the next 5 shows in the calendar and has a lovely button for loading the Longside Radio website (we are going to be having a push soon to make it work better on mobile devices as it could be better).
If you have any ideas or suggestions for the app please let us know via the Contact us page and use any medium you prefer 🙂
Next thing will probably be a layout for landscape and have it auto detect the orientation and give you an interface that is appropriate unless someone comes up with a better idea 🙂
(Android) Longside Radio app v1.1 released!