Where to start?
One of the key considerations on a project like this is to do the best job with the budget available and as the budget didn't stretch to a hand built motorhome, coach or airship we soon realised that we needed to look around for a trailer or caravan
Our first bit of luck was a friend of Longside Radio,  Dave the Landlord of the village pub (the Crown at Martley),  had an old smallish caravan (an ABI Marauder 450s no less) he was able to let us have at a knockdown price.   It had been standing for a while but in general seemed to be in quite good repair.
A bit of coaxing and swearing got it out from behind the Crown and up to the Longside Radio top secret mobile studio building location (behind Steve's garage).
Then the challenge began,  how do you turn a caravan into a studio?
Caravans are built so that the interior structure helps stabilise and add strength to the whole structure so if you are ever doing something like this be very careful what you take out as you will need to strengthen the structure or you end up with a very wobbly game of jenga!
With this in mind we turned our attention to the front of the caravan where we are planning to have the main part of the studio.   Sadly we don't have any pictures of the van before the work began (we have got a bit better at taking pics as we go along but sometimes when you are busy working you forget).
So out came the bench seats on both sides and we then found a bit of a problem.   The front end of the caravan had been leaking: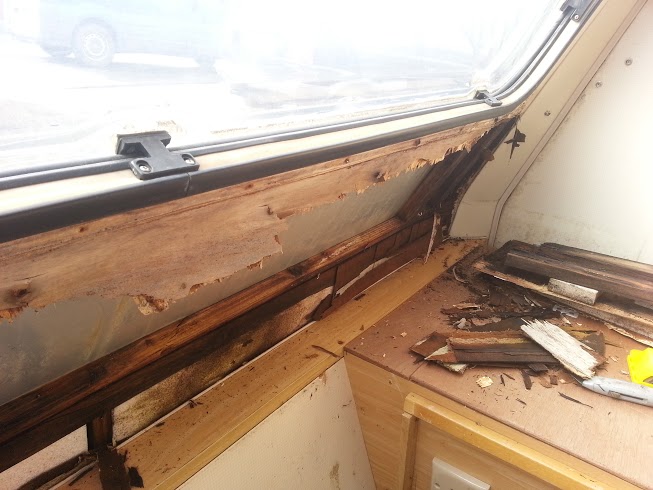 So we did a bit more digging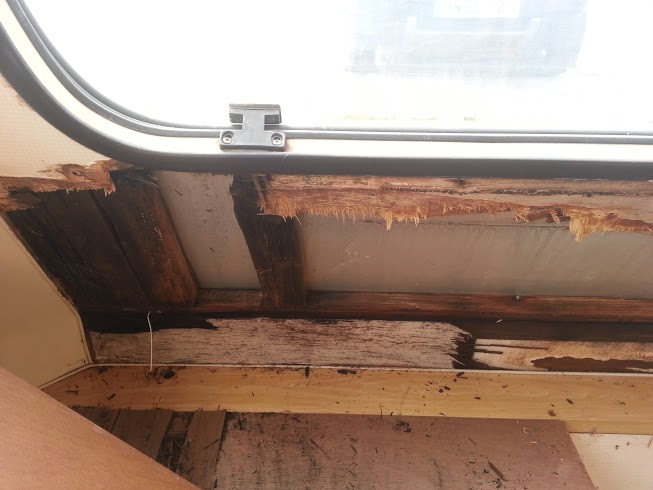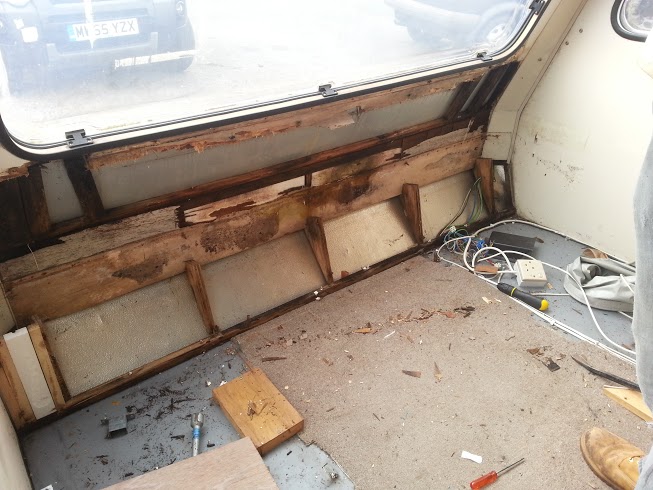 The mighty marauder is going to need a nose job 🙂
First thing first was to find where the water had been coming in and the only possible culprits for this were the seal above the window, the lighting fixtures and the pull handles and the the lower seal.
So the front window came out, the seal was remove stripped, cleaned, surface prepped, mastixed and re-attached as were the handles, and lights.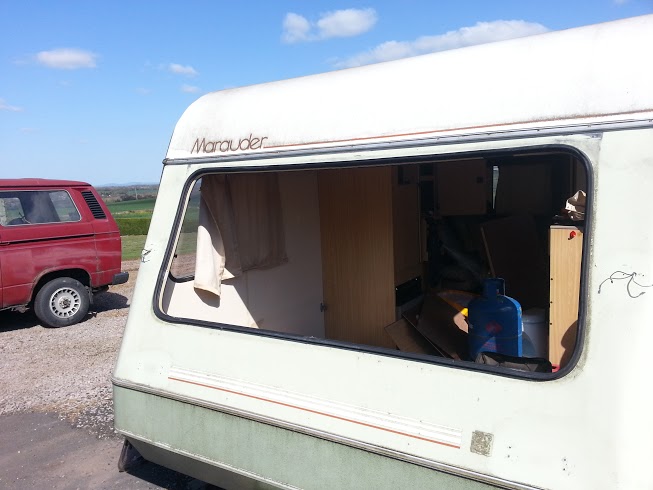 Now that the rain was staying on the right side of the van (the outside) we could turn our attention to the interior.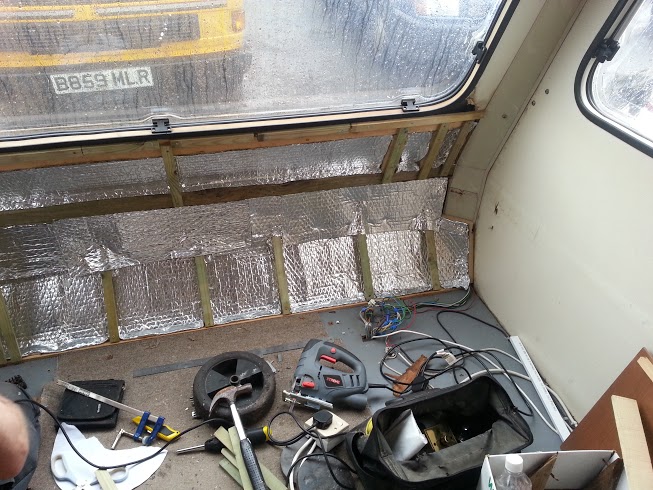 New battening and insulation was put in (this is only half way through) and after the front of the van was all braced and secured then we started panelling it off.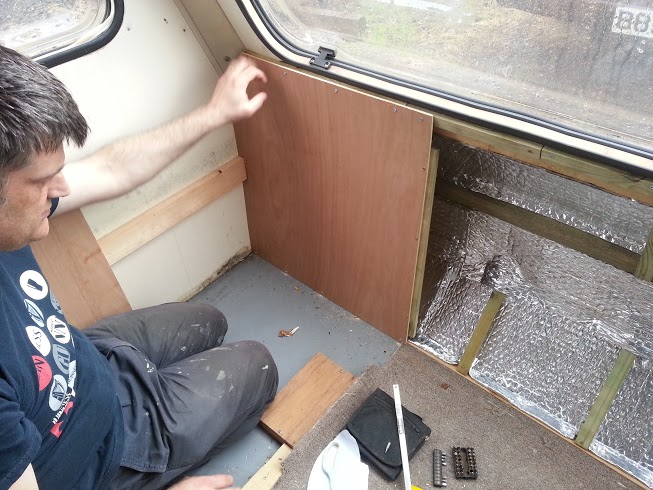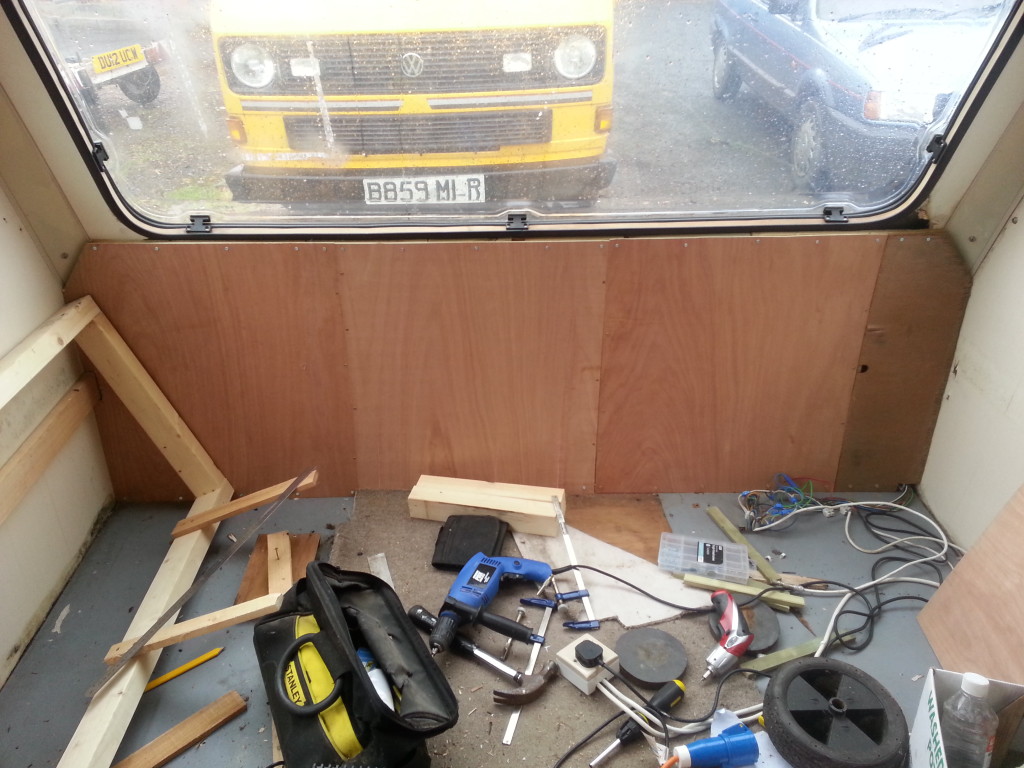 Once all this was done the front of the caravan was rock solid and watertight!